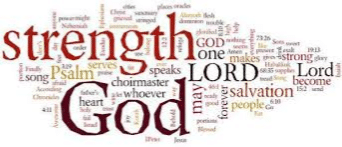 "When Hercules wrestled with Antaeus he found that every time he threw him down upon the ground the enemy arose stronger than before. But when he discovered that Gaea—the Earth—was the mother of the giant, and that every time her son fell back upon her bosom he rose with renewed strength, then Hercules changed his tactics. Lifting Antaeus high in the air; away from the source of strength, he held him there till he brought him into submission." (from The Soul's Desire by Glenn Clark)
This story can remind us that whenever troubles come if we fall back on God, we will rise with renewed strength and defeat or rise above the storm. Often circumstances, even small insignificant ones, try to pull us away from God, the source of our power. With God's help, instead of distancing us from God, we can allow troubles, misfortunes, disappointments, and the like to send us back to God. God is always present and God will renew our strength.
"God is our refuge and strength, an ever-present help in times of trouble. Therefore we will not fear…He says, 'Be still and know that I am God'…The Lord Almighty is with us…" (Psalm 46:1, 2a, 10a, 11 a)
I look forward to seeing you each Sunday throughout the summer as you come to worship God who loves us, strengthen us, and renews us.
Blessings in the name of Jesus Christ,
Pastor Anne